Specifications
1. Overview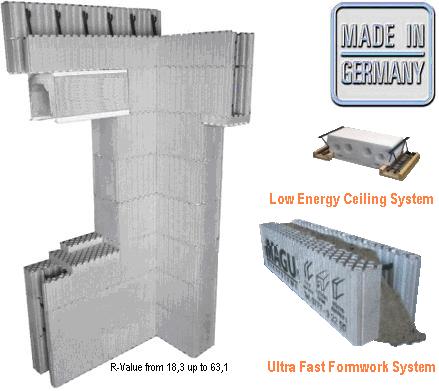 Better
MERCADO-House Insulating Concrete Forms (ICFs) represent the superior way to build. The MERCADO-House system is simpler and easier to install than wood-frame methods — and, even other ICF systems. It's faster, taking less time with fewer people. And it's better, because MERCADO-House buildings are vastly more energy-efficient. Stronger. Quieter. Resistant to fire, moisture, mold and the elements. With a positive ecological impact.
Simpler
This state-of-the-art method of construction is also the simplest. MERCADO-House insulating concrete forms are EPS (expanded polystyrene) panels that easily snap together to create walls of virtually any thickness. The space between the panels is filled with concrete that cures and hardens into a monolithic, reinforced core of incredible strength.
No Design Limits
MERCADO-House gives you unlimited design flexibility. Got a saw? MERCADO-House block cuts easily into any shape you need — perfect for unique window openings and arches. And any exterior or interior finish can be directly applied to the panels.
2. curve formwork for varying angels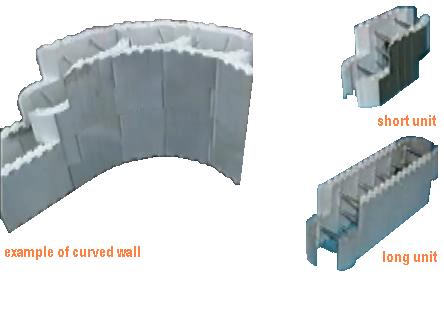 Curved Walls
Our unique formwork system with varying sizes and angels set no limits for the design. In minutes a complete curved formwork is ready for pouring the concrete. And the customer is shure for an highest thermal and sound insulation without any thermal bridges. No other system is easier and faster.
3. Data sheet of standard formwork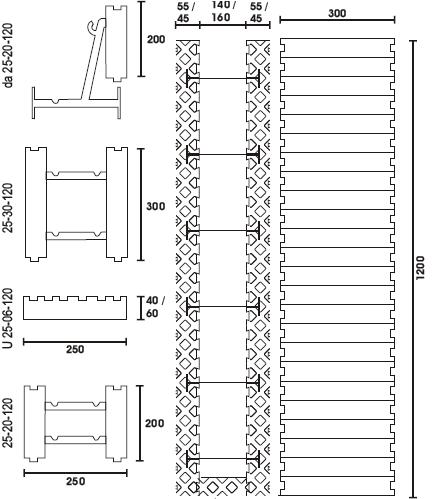 Standard Blocks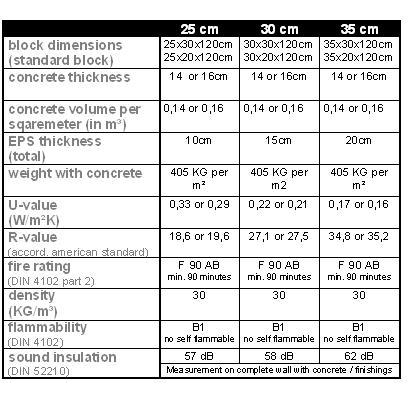 standard concrete specification:
In standard way it has to be used C25 Ready-Mix (Type F/F pump) with Cement type of CEM1/PC 42.5 or similar. Maximum aggregate size has to be 10mm, the target slump is 75mm. Minimum cement content is 350.
4. Data sheet of standard panels
fourth descriptions and specifications......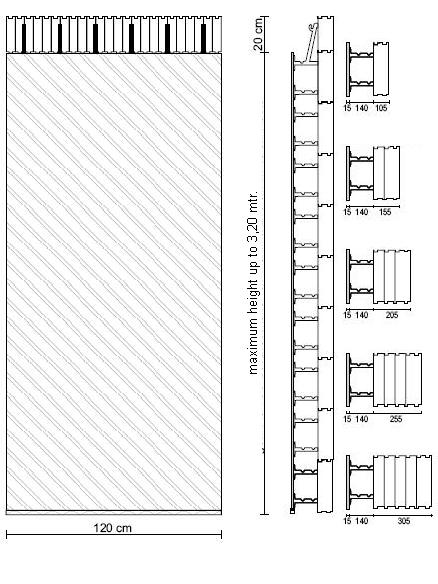 Standard panels
Using of our high insulated standard panels is a very fast and easy way especially for commercial and government constructions like schools, hospitals, labour camps and many more...
Within the 18cm concrete core the constructions are very strong against hurricanes up to 250 mph. The high speed construction comes with best thermal and sound insulation. The size of only one panel is depend of the storeys possible up to 3,24 m².
5. High insulated ceiling & roof system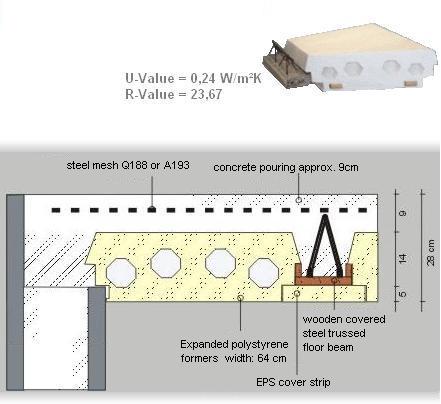 Filigran Ceilings
Our Filigran V-Beam System performs a similar function to a traditional beam and block system. The V-Beam, which supports the EPS ceiling/floor (CF) block, is a reinforced mesh cast on a concrete base forming a beam. Since the Beam is relatively light (approx. 27 kg per running meter) on site cranage is not essential.
Furthermore this system avoids the high costs associated with erection followed by the subsequent dismantling of conventional floor shuttering.
The MERCADO-House floor system consists of a steel trussed beam, the lower members of which are encased with a wooden foot. The beams are placed at intervals of 640mm between centres, on the top of a finished wall. Then the expanded polystyrene formers slot into place to close the floor.The polystyrene infill formers slot around the wooden foot without coming into contact with the steel work, this precludes the possibility of corrosion occuring during the lifetime of the floor.
The finished floor can then be power floated, so no costly screeding is necessary. Our system can span up to 6.5 metres under domestic loadings (3.5 KN/sq mtr). As always, your design should be checked by your structural engineer.
Here you can go back to the overview.